She Shops Smart is having a FREE class for ANYONE! Many of our readers have been invited to a class and couldn't make it, or would like to attend a class without hosting one! This is your chance!
The class will be on Tuesday, December 8th at 7pm near South Jordan.
There is limited seating, so e-mail us now to get your ticket!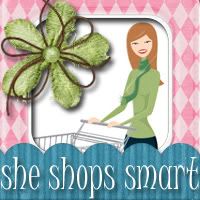 In our class we will teach you to:
Shop at only one grocery store- no running around town!

Buy all your families' groceries, household, and personal care items (including diapers) all for about $200 for a family of four- while building massive food storage at the same time!

No clipping and filing individual coupons- Quick and easy! A HUGE way to save money!

Eat a healthy, well balanced diet, and have ease in meal planning!

Use the FREE website- There is no cost to attend and no cost to use the website

Get a newspaper subscription at a great price
In addition we are going to be having door prizes and raffles during the class. The class is going to be a ton of fun and it will help you start saving money for the upcoming holidays!
E-mail sheshopssmart@gmail.com to reserve your seat! We will e-mail you the directions and a ticket to bring with you.